Motorhome hire in the UK has been increasing in popularity in the UK over the last ten years so we look at how much it costs to rent a motorhome in the UK.
We contacted several leading motorhomes hire companies in the UK, some were unwilling to allow us to publish their prices.
One company Priory Rentals were more than happy to let us publish their prices and were fully transparent in their pricing structure, so we thank them for their help.
So How much does it cost to hire a motorhome in the UK?
Well this depends on the size and number of births you require as well as the luxury's you require, so we start at the lower end.
To hire a 2 berth Fiat Euro 6 Autocruise 122 Select starts at £71 per day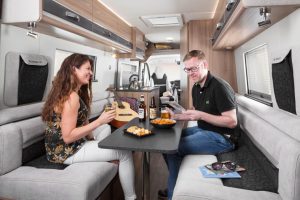 This is one of the most compact motorhomes and is perfect for couples looking to take a weekend break. It comes with Cab air conditioning, Waeco electric fridge and 2 burner gas hobs with electric ignition.
It also has blown air heating system with combi boiler for those colder evenings. Although this is the cheapest van, it still comes with a vast range of inventory as standard features which includes, dinner plates, cereal bowls, mugs, wine glasses, tumblers, cutlery, tin opener, corkscrew, scissors, cutting board, kettle, frying pan, large and small saucepans and much more.
If you want something a bit larger then The Auto-trail Tribute 615 is a great compact motorhome that sleeps 4. With seating for up to 6 people in the central living space. This motorhome features a double bed above the cab as well as two long opposing lounge seats' that can convert into twin single beds or a large transverse double bed. This motorhome offers great space for entertaining and has well equipped end kitchen with microwave oven hob sink and fridge and counter top space for preparation. There is also separate toilet with wash basin and shower.
This great motorhome is available for rent from only £78 per day
If you are looking for the ultimate in space and luxury then why not try the Auto-Trail Arapaho Hi-Line which is 8.75 meters long and sleeps 6 in great comfort. ! double over cab bed, 1 double in dinning area and 1 double in rear lounge area.
This motorhome has it all with panoramic skyline opening roof above cab double bed, has integrated Avtex drop down wide screen TV with DVD player, Bluetooth hands free systems for audio streaming and sms reader. In the kitchen there is 4 ring hob with full cooker and grill. The fridge/freezer offers 175 litres of space. The motorhome also has built in solar panel for when you are off grid and 135 litre fresh water tank. This motorhome has so many features there are too many to list and it is not so much a house on wheels, but rather a mobile stately home.
So how much does all this cost, not as much as you would think with prices from £142 per day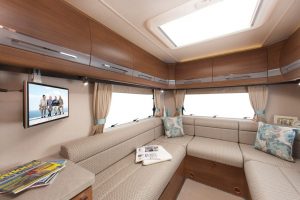 Motorhome hire has become extremely popular in the Uk after the pandemic and as lockdown restrictions are being lifted this should continue.
About The Author