Where is the best place to find a retro football shirt?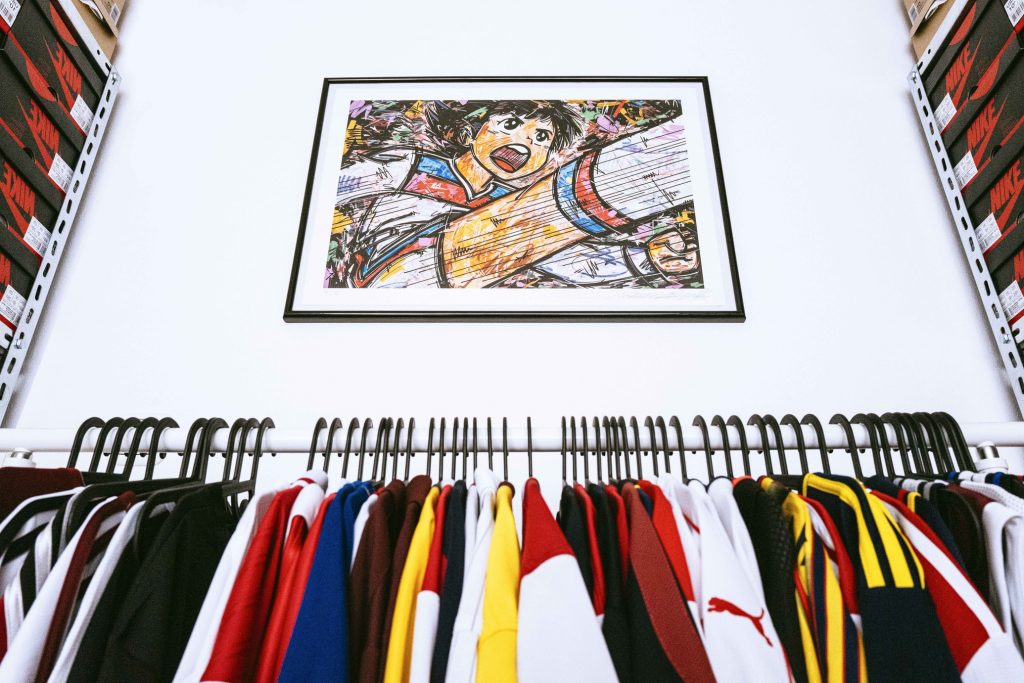 The world of retro football shirts has become a gigantic industry. Since football shirts were around, fans across the globe have worn their team's shirt as a badge of honour, wearing it with pride regardless of their team's football results. Recent years however have seen the industry boom, with dedicated websites popping up more and more frequently. As the world took notice of this ever-increasing trend, with it came inflated prices. From fully dedicated websites, eBay sellers to brick and mortars, the craze of retro football shirts seems here to stay.
With the price of retro football shirts seeming at an all-time high, purchasing your grail can certainly end up leaving you out of pocket. Some football jerseys, like the ones mentioned in the Sporting Ferret retro football shirts guide, can fetch thousands of pounds upon sale. Those who don't have the option to pay such high prices, or alternatively prefer to find a bargain, can be left in the dark as to how to acquire a retro football shirt. With this in mind, we run through the alternative options and weigh up where exactly is the best place to find a retro football shirt?
eBay
The American powerhouse remains king of the online auction. The e-commerce corporation has become known as a great platform for finding bargains, operating as a sound alternative when shopping around. This can certainly be the case when searching for your retro football shirt of choice.
 eBay Tips
Various tips remain helpful when sifting through eBay in search of your ultimate footballing grail. Our recommended tips are as follows:
Saving search terms can help you stay on top of your itinerary, in the case of searching for multiple items.
Searching through auctions remains integral to finding 'grail' pieces. It will require time on your end but expect to be rewarded eventually, having sifted through hundreds of auctions.
If you hope to snap up a quick deal through the 'Buy it now' section, always use the 'newly listed' filter first. This may give you the best chance to grab a quick deal on newly listed items.
If you find a seller actively selling retro football shirts for a good price, don't be afraid to send them a message asking for a bundle deal. Another tip is to ask them if they have any other retro football shirts, which have not yet been listed. This could lead to a jackpot situation, should the seller have a retro football shirt you are searching for.
Save sellers who you regularly see list items of interest. You can then regularly check back with this seller and even build rapport if looking for regular stock.
Daily searches. Every day new items are uploaded to eBay. Spending time each day on the platform ultimately remains the best chance to find your ultimate retro football shirt.
Patience is a virtue. Your footballing grail may not be seen for months, or even a year, on the platform. However, eventually expect it to make an appearance. When this time finally comes around, ensure you are ready and strike when the iron is hot. Who knows when it may be seen again?
Charity shops
Charity shops can be a good starting point when searching for a retro football shirt. They come in abundance across the country and remain accessible to everyone. People nowadays seem to think the golden days of charity shopping remain a thing of the past, with prices rising over the years. While for the most part, this may be true, never rule out the potential to spot a deal.
Charity shop tips 
These tips will give you a fighting chance in finding deals and maybe even a retro football shirt or two:
The early bird catches the worm. Arriving early into a charity shop will give you the chance to pick up all of the freshly replenished stock. Don't expect to walk in at the end of the day and see a retro football shirt waiting for you on the rails.
Find independent charity shops. The high street charity shops have a rigid pricing strategy, given to them by head office usually. Brand prices can seem highly inflated, more than their worth, often more than not. They have even begun taking to online selling, through avenues such as eBay. On the other hand, independent charity shops tend to price items on the lower end. The true deals often are found through the independents.
Volunteering in a charity shop can be both rewarding and informative. By giving your time, you can learn the processes of how donations work, when stock arrives, so on and so forth. By sorting through stock, you may be given the opportunity to purchase items before they see the sales floor.
Test out new locations. Through trial and error, you will begin to see a trend of which charity shops bode well for you, and which to avoid. Avoiding city-centre locations and heading to the small towns/villages on the fringes is usually a solid starting strategy. Retirement towns can also be seen as great locations for finding retro football shirts, as opposed to the big cities.
Build rapport with your favourite charity shop. Through regular visits, you can begin to build a relationship with the shop. Through regular purchases and conversations, the volunteers will see your interest in particular items. This could lead to them letting you know when certain items have been donated to the shop, giving you the opportunity to purchase before someone else.
Car boot sales
A favoured weekend past-time for Brits across the country. Car boot sales are a bargain hunter best friend. Every weekend, generally over the summer months, thousands of buyers and sellers take to their local field of choice. The unlikely, yet possible, chance of finding a box of retro football shirts for a bargain price is why you should visit your local car boot. The thrill of picking up something of high value, for next to nothing, is what has many people hooked on car boot sales.
Car boot sale Tips
Car boot sales can be no joke, with many professional traders buying a majority of their stock from unbeknownst sellers. These tips will help you to stand above the rest, giving you the upper hand in finding your footballing grail:
Beat the crowds. Arrive as early as possible to beat the masses of people. Professional buyers will arrive at the crack of dawn and clean up on all of the valuable stock. The likelihood of seeing anything of value after the wee hours remains slim.
Don't be afraid to ask. Ask the seller if they have any football shirts for sale. It could be your lucky day. Once again expect to see professional buyers using this method.
Trust your instincts. Over time as you become confident in buying retro football shirts, always trust your instinct. If you see a vintage football shirt that takes your fancy, don't second guess yourself. Pay slightly over the odds if required, whilst having a set price in mind of what you are comfortable in paying. By second-guessing yourself and deciding to ponder your decision, the football shirt will likely be snapped up in the meantime.
Build rapport with regular sellers. once again by buying from certain sellers week to week, they will begin to see your interests and buying habits. Once a relationship has been built, the seller may be inclined to reserve items for you know you are a repeat customer.
For all those hoping to become retro football shirt aficionado's, these methods are the best place to start. Over time you will begin to see which methods are tailored to your liking, and which are best left alone. From other avenues such as vintage wholesalers, auctions or even buying from abroad, many roads can be taken when searching for retro football shirts.
We hope these tips can give you the inroads to begin your vintage football shirt collection and through doing so, eventually find your ultimate grail.
Read more insightful news here!
About The Author