Latest trends in kitchen design in 2019 in UK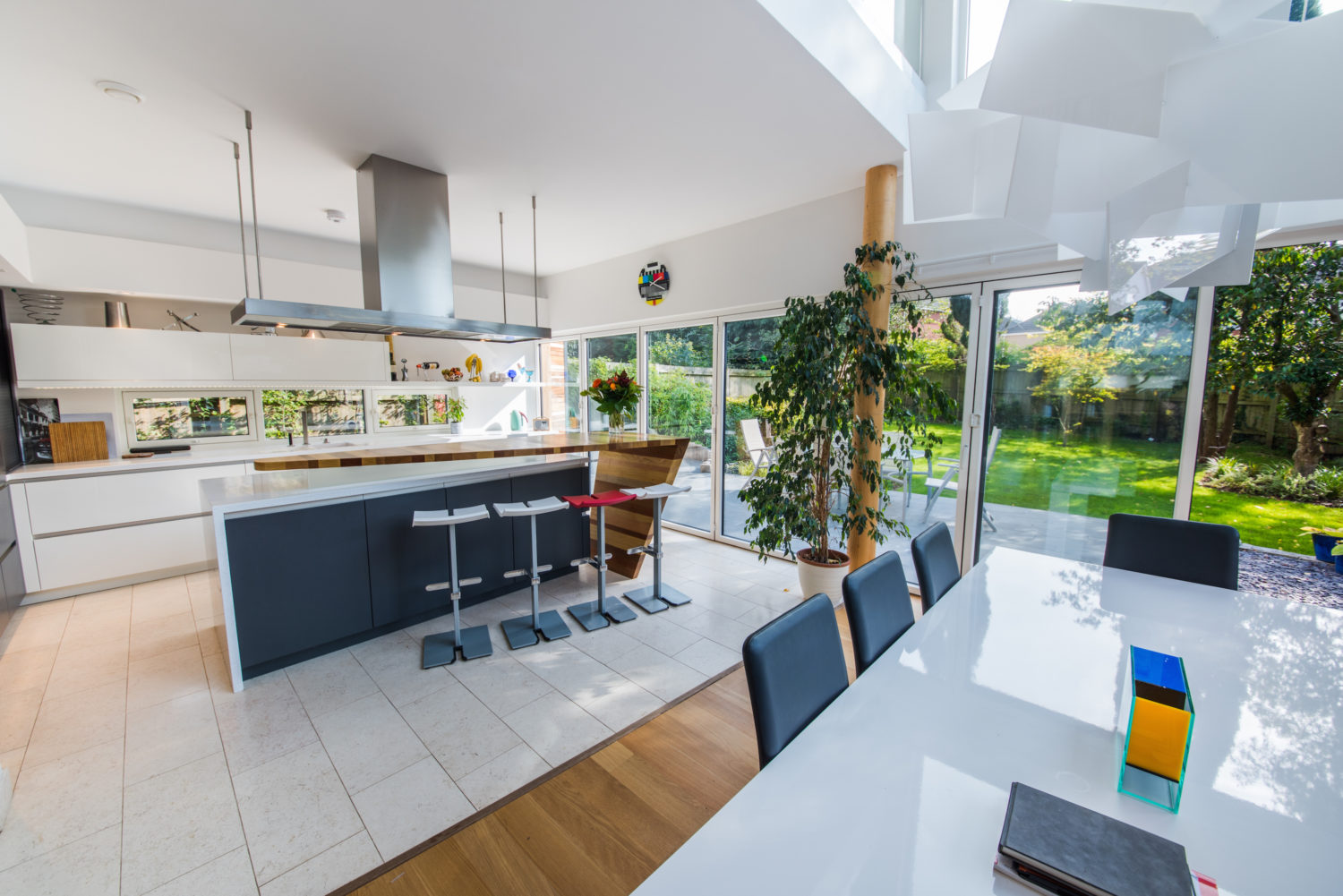 Latest trends in kitchen design
Of all the rooms in the family home, the kitchen is the one that has seen the most wide-ranging and innovative facelifts over time as technology, trends and tastes have changed. Only forty years ago, the kitchen was a functional and strangely frightening sight, with enough wood panelling to threaten a rainforest and a weird mismatch between patterned wallpaper and the dreaded linoleum, accentuated by small dimensions and, if you were very unlucky, an opaque glazed serving hatch to the dining room. In contrast, modern kitchens have been transformed into expansive multipurpose living areas that offer families and friends a communal space in which to socialise, dine and, of course, cook – the beating heart of the 21st century home.
But the revolution is not over, so here we explore some of the most significant trends of 2019 that will influence kitchen design for years to come.
Sophistication through bold colour choices
Over the years, the kitchen has seen more colour variants than a Dulux paint card, from the pastel shades of the 1950s (complete with matching appliances), to the wood grain effects of the 1980s and the vibrant colours that became popular at the start of the century. Simple, clean lines with minimalist cabinet designs have survived the popularity test, although more ornate farmhouse-style kitchens are still the choice for some, particularly in older properties.
Now the shift is towards darker colours, and some unusual shades too: plum, navy, green and yes, even black, offering a sense of luxury and elegance while retaining the distinct, clean lines that modern designs have created. It may be a bold step to opt for a darker kitchen, but advancements in LED lighting means a kitchen need not look funereal, especially when accompanied by lighter worktops or splashbacks.
Creating a sense of light and space
In many homes, kitchens are now a desirable social hub, a central place where the family can gather in the morning before work and school, or at evenings and weekends when there is time to relax and enjoy each other's company. Few people like to be enclosed from all sides, especially when the whole family is assembled, so creating a sense of space is important if the kitchen is to rival the traditional dining table at mealtimes.
Opening up the kitchen by eliminating wall cabinets is a popular trick that will make the room more spacious and allow light to flood every corner. With this comes additional benefits – the storage of food and equipment at heights accessible to all, for instance – but also some challenges, particularly the sudden shortage of cupboard space.
Effective kitchen planning takes account of the needs of the family, balancing the need for the room to be functional and practical with the desire to make it a place where everyone can relax over a meal or a glass of wine. Innovative storage solutions help to utilise every hidden square inch, such as that frustrating space at the back of the base corner cabinet that is large enough to accommodate a small appliance but perpetually out of reach. Baskets, trays and drawers that slide, roll or rotate, for example, which appear almost by magic when a cabinet door is opened, mean a whole range of small items can be stowed invisibly, yet remain in easy reach as soon as they are needed.
As the kitchen's value as a social hub grows in popularity, it's likely that innovative storage solutions will become a more common sight in homes.
Modern solutions for problematic walls
There was a time when just about every feature kitchen boasted the bevelled metro wall tile: modern, clean and available in numerous colours. But discerning homeowners have begun to recognise the downfalls of the small, ceramic tile, especially the discolouration of grout over time that threatens to destroy any sense of clean and distinct lines.
Alternatives to small ceramic tiles are now gaining in popularity, from larger heavy-duty tiles that dominate the walls with less reliance on grouted in-fills, to acrylic panels that are available in a wide variety of colours and styles. These can even be mixed and matched, with metallic chrome or copper a popular choice above the hob, for a contemporary finish that is effortless to clean. As wall cabinets begin to disappear, opening up the room, there's more wall space to cover, making larger tiles or panels a more cost-effective, eye-catching and hygienic option.
Dual-function islands
Once an exclusive feature of high-end kitchens, islands and peninsulas are becoming a popular option for those who have the space to accommodate – and again it's the move towards the kitchen's changing function that's driving this innovation.
Effective design means an island or peninsula plays a dual role, as a functional storage space (even more important if the wall cabinets have been left out of the plan) and as a focal point for social gatherings. If the kitchen dimensions allow, a large island can also accommodate appliances, so they are within easy reach from anywhere in the room, and offers a place to sit for meals, relaxation or homework. Soft lighting projected directly from above maintains the sense of luxury and elegance that was synonymous with this style of kitchen.
One of the leading kitchen and interior design companies in Cardiff Space Fitting Furniture can advise you on the latest trends in kitchen design and offer bespoke solutions to their clients.
Being smart in the kitchen
One innovative design that we can't ignore is, perhaps unsurprisingly, the smart kitchen. As technology branches out in ways that we couldn't have predicted only a decade ago, pioneering solutions are gradually seeping into our homes, learning our behaviour and offering us on-demand help to complete the simplest of everyday tasks – and kitchens are no exception.
Smart technology is most effective when incorporated into the kitchen design from the planning stage, although devices can be added to an existing layout if desired. From motion-activated taps and coffee that's brewed the moment you trudge downstairs in the morning, to voice-activated lighting and a fridge that informs you when its stocks are running low, smart technology is here to make your catering experience that little bit easier.
With kitchens constantly evolving to reflect the changing tastes and trends of the nation, as well as advances in technology, it's little surprise that this most important room in the modern home is a far cry from the designs of the past – but establishing it as a multipurpose hub that's at the heart of the home and family life.
About The Author