Water-filled structures that provide a high level of protection to people and property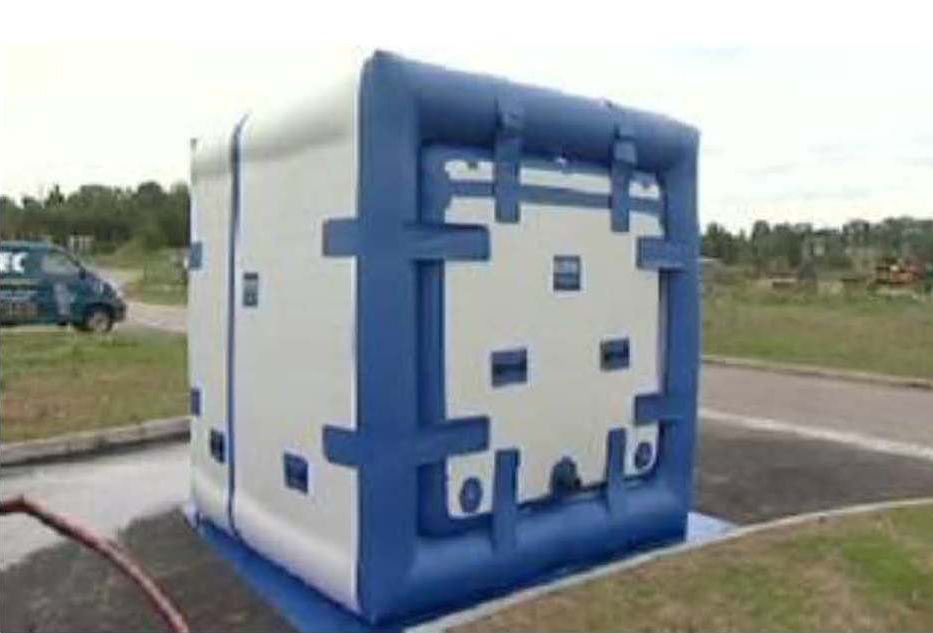 Blast protection
Developed by Cintec International, a range of self-inflating, water-filled structures which are capable of providing a high level of protection to people and property against a range of terrorist devices.
Manufactured from poly-vinyl-chloride (PVC) coated fabric, Waterwall structures are internally reinforced using a specialist stitching technique to enable them to maintain their shape and stability.
Cintec Inflatables Waterwall systems have been used in a wide range of application from bomb / explosive encasement (bins) which reduces blast pressures by up to 95%.
They have been deployed by the British Army and are being evaluated by the United States Corps of Engineers.
The products have also been used by the Fire service as waterwall storage units where fire fighting appliances have no mains supply access. Waterwall units can hold around 10,000 litres of water.
They can also be used as vehicle impact barrier to stop terrorist driving through check points or any other areas that need protection.
The benefits include:
Significantly reduces the velocity of fragments produced by an explosion;
If the water layer is thick enough it will stop all fragments completely;
Reduces blast pressures by as much as 95%;
Combination of fragment containment and blast suppression creates an 'ideal' mitigation system;
Thin layers of water can prevent the 'sympathetic' detonation of neighbouring ammunition stacks;
Low 'down-range' hazard;
Readily available in urban areas where the threats of terrorist attacks are highest;
Inexpensive;
Captures of forensic evidence when used in against improvised explosive devices;
Inhibits the formation of toxic gas cloud;
Can be pre-mixed with decontaminants to facilitate clean up following a 'dirty bomb' attack.
For further information see video below.
About The Author