What Face Shape Suits a Fringe?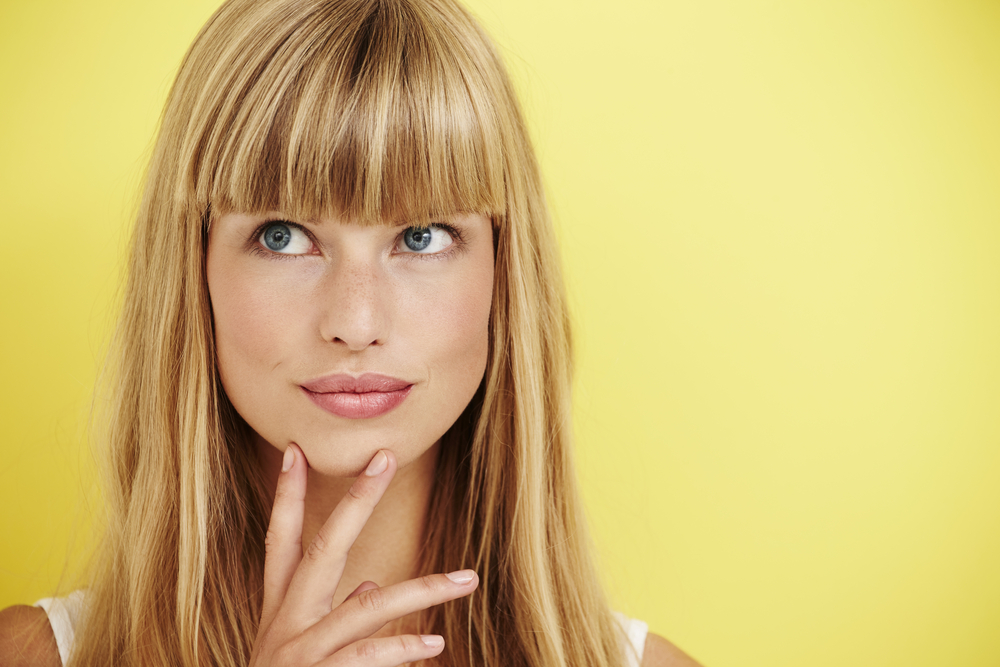 Deciding on a fringe is a big step when it comes to your hairstyle. There are a variety of fringes to choose from, including a short style or a long one. There's also a side swoop and a block fringe, so you have some options to choose from. If you want to try a fringe, it's really important to have a good hairstylist who can get the look just right. Another pretty important factor is the shape of your face. Check out this guide from Your Beauty Review to help you find the perfect fringe for you:
For a Round Face
If you have a round face, the best style of fringe is a short layered version. Also called a micro-fringe, this style of fringe is perfect for showcasing your eyes and cheekbones and sharpening the roundness of your face. Another great style for a round face is a side swoop, which adds dimension to your face while also being incredibly flattering to your overall look.
For a Heart Shaped Face
A long, broken fringe is ideal for a heart-shaped face because it uses a centre parting and sweeps the fringe to the side. This maximises the look of your cheekbones and takes some of the attention of your chin, which might be pointed since your face is shaped like a heart.
For a Square Face
With a square face, a fringe that sweeps to the side will be the most flattering. A softly sweeping side fringe will soften your jawline and make it a bit more rounded. Many experts say that a side fringe on a square face will make you look like a supermodel because it will emphasise your cheekbones in a great way.
For a Long Face
If your face is longer, you can easily pull off a heavier and thicker fringe. A slightly chunky look makes your face look smaller and shorter. If you don't want a blocky-looking fringe, you should still ask for some breaks in the fringe, which offers the same look without the commitment that a block fringe requires.
For a Diamond Shaped Face
If you're lucky enough to have a diamond-shaped face, you can get away with virtually any style of fringe that you want to try. If you want a low maintenance look, consider a fringe that sweeps to the side. But since you have such an ideal face shape, don't be afraid to try something new to see if you like it.
For an Oval Face
Much like a diamond-shaped face, an oval face has a lot of options when it comes to the fringe as many styles will be flattering on you. One of the best choices is a long, thick fringe that hangs to just above your eyebrows. This is a fantastic look that not everyone can pull off.
For a Triangle Shaped Face
A face that is wider at the top and narrower towards the chin is best suited for a fringe that is rounded at the edges and bit thinner than you would choose for other face shapes. This will help balance the shape of your face without bringing too much attention to your jawline.
The French Girl Fringe
Another popular style of fringe is called the French Girl Fringe. What makes this fringe so wonderful is that it's extremely versatile, so it works for many face shapes. A French Girl Fringe is longer and has a lighter look than other fringe styles, which works to lift your cheekbones and open up your face. It also widens your eyes. The length of this kind of fringe can range from just above your eyebrows to a bit below, so work with your hairstylist to find the length that works best for your face shape.
Testing out a Fringe
If you're not sure a fringe is right for you, it makes sense to try a look a try before you sit down in your hairdresser's chair. You can do this by putting your hair in a ponytail to start. Make sure the ponytail is fairly high. Then pull it over the top of your head, allowing the ends of the ponytail to rest on your forehead. Using your other hand, spread the hair out and you'll have a pretty good idea of how you'd look with a fringe.
A fringe might feel like a big step, and it's something you should consider before going for it. But, if you take your face shape into account and make sure you have a fully trained hair expert, chances are that you're going to love your new look.