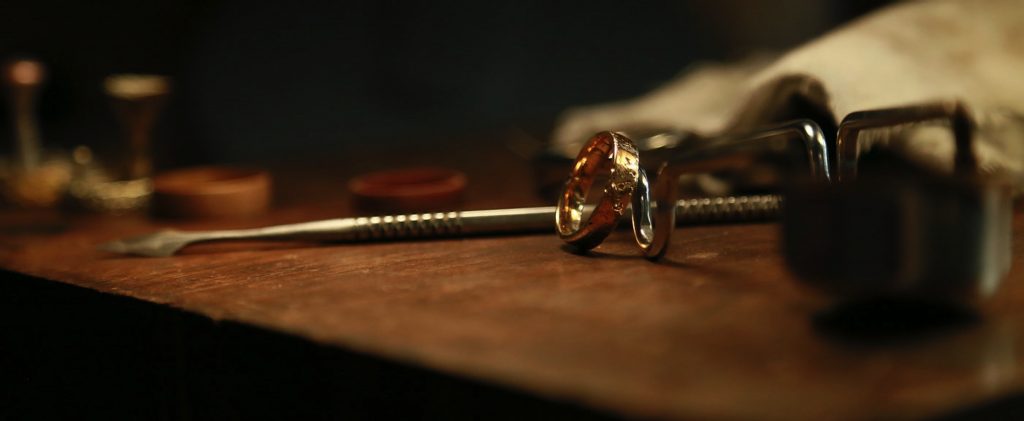 WoodenGold is a handcrafted jewellery company based in Cardiff, UK, and specialise in a specific type of jewellery, sand cast rings. It is a family run business: the team is composed by Stephen, a goldsmith graduated in sculpture, and Lisa, his wife who runs online communication with customers, accompanied by their young son, Caleb.
Their business mission is to give customers the greatest experience, from their family to others, with a beautiful and comfortable hand-crafted ring as final product. Stephen's goal is to make things with high value, going against the cheaply and hasty production of today: he creates handmade rings that have good chances become a family heirloom, since they stand the test of time.
Sand Casting technique

WoodenGold respects the environment, believing in the natural resources' sustainability, and works with ethically sourced recycled gold, woods and silver from a UK based company. Moreover, they use sand casting, an ancient technique - originally developed by the Egyptians - characterized by using sand as the mould material. In particular, this process starts with a sand mould being individually created for each ring; then, hot precious metal - such as gold or silver - is hand poured into the sand mould and allowed to cool. Finally, the ring is hallmarked at the London Goldsmith's office to verify purity, hand refined and polished, producing something truly unique! Hence, each ring gains a non-replicable texture, being a genuine one-off.
Collection of silver, gold and wooden rings
WoodenGold proposes more than 60 models to choose from, which range from delicate through to large and bold; they can be divided into three collections based on the materials used: silver, gold or wooden rings.
Delving into the creation of the latter, the wood crafting process begins with cutting, steaming and curling the selected wood into a tight coil. After 24 hours, - when it's dried - the wood is bound to make a ring using resin and oil, and it gets to the correct shape and thickness hand-turning it. The ring is then finished with three coats of resin to saturate the wood leaving a durable and waterproof surface.
Special Services
They also offer services of resizing silver rings and of production on customer's request. On the website, you can find tips for taking care of your ring and, if you have any questions, you can chat directly with Lisa. The free Global shipping is guaranteed on all products; however, if you do not know the finger size, you can make an appointment to find the right one for your ring in person in their workshop in Cardiff, Wales.
Customers have the possibility to choose the finish between an elegant satin one - that is non-reflective and looks more organic - or a high shine, for a more traditional looking piece. It is also possible to send to the WoodenGold shop a pinch of sand from a special beach or place, in order to create a unique texture onto a ring. Furthermore, if you're getting married soon, you can contact them to have a free priority note on your order.
A unique present
Every piece is made to remember and to celebrate. In Stephen's opinion, hearing stories of customers is probably the best part of the process because makes him feel part of customers' special moments. The care given throughout the whole procedure reflects a true passion that transform a simple jewellery into a work of art.
In conclusion, if you're searching for something very original and unique as a birthday/anniversary gift, or even a present in the name of a friendship or love relationship, WoodenGold is undoubtedly the right place to visit!