Choosing the Right Wall Panels for Your Bathroom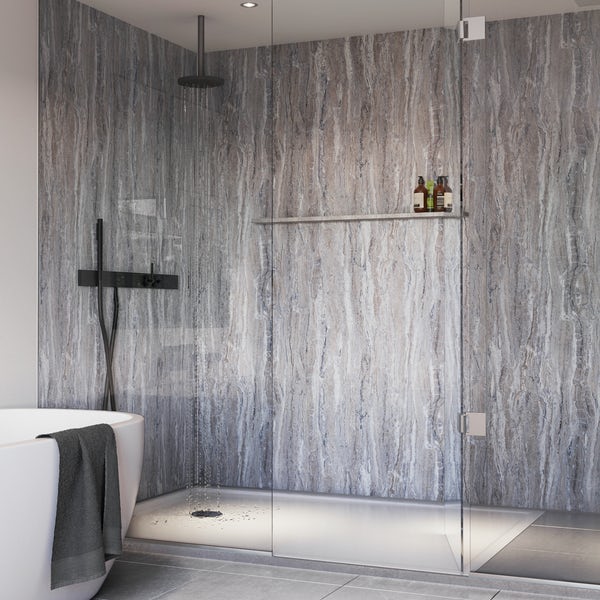 If you're refurbishing your bathroom, you may be wondering what you should have on your walls; tiles or panels? Traditional tiles may look beautiful but they're not always practical. Bathroom wall panels are easy to maintain and cost effective, whilst also giving your bathroom a complete makeover.
What are the benefits of bathroom wall panels?
They are much more cost-effective, meaning whatever your budget you can have a beautifully finished bathroom. Choosing wall panels may also allow you to spend more elsewhere. That roll top, claw foot bath could be in budget after all…
They are easier to install. The tongue and groove system on bathroom wall panels means the installation process is much simpler than with tiles.
It is 100% waterproof. Of course, in a bathroom it is crucial that all fixtures are waterproof, you can sleep easy knowing there will be no leaking issues with wall panels in your bathroom.
They are much easier to maintain. Bathroom wall panels are super easy to clean, as they eliminate all problems associated with grout. A quick wipe with antibacterial spray will leave your wall panels looking good as new. With the risk of mould and mildew eliminated, wall panels are far more hygienic. Not only does having easy to clean panels save you time, it could also save you money further down the line.
Bathroom wall panels can be fitted over existing tiles. As long as they are level over the wall your bathroom wall panels can be installed straight over your old tiles. This is a great way to minimise the destruction required when refurbishing your bathroom.
How to choose the right wall panels for your bathroom
Once you have made the decision to have wall panels in your bathroom, there comes the task of finding the right bathroom wall panels for you.
As with tiles, there are lots of options when it comes to choosing the right bathroom wall panels for you. Initially, you need to find a great company that can provide your wall panels. Principality Plastics are just that. They have a wide range of cladding designs to suit any bathroom.
Principality Plastics have various assortments of panels, meaning there is plenty to choose from. All of the bathroom wall panels come in different sizes and finishes, meaning the panelling can be adapted to fit your bathroom perfectly. Creating the bathroom of your dreams couldn't be any easier with so much choice available at an affordable price.
Bathroom wall panels are also the perfect solution if you're looking to create a wet room. As they are completely waterproof and can be used on both the walls and ceiling. The panels can be used to create a seamless and stylish wet room, with the option to choose from a range of colours and finishes.
No matter your taste or price point, when redecorating your bathroom, it would be mad not to consider wall panels as an option. Bathroom wall panels provide everything you need for the bathroom of dreams. They are the perfect combination of function, aesthetics and low maintenance. Their attributes make wall panels a great choice for your bathroom. Who wouldn't want bathroom walls that save them time and money, whilst also looking modern and stylish?
About The Author