How To Repair Damaged Floor Joists
If you notice that the floor is either creaking or sagging, this is a sign that there might be one or more damaged joists, that require immediate attention. Due to the subtleness of the impact caused by wrecked floor joists, it may take time to realize that an urgent repair is required.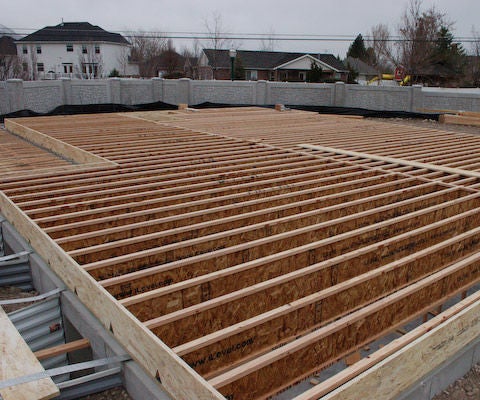 Floor joists provide structural support to floors in your home. They are often covered up by floor coverings and ceilings, meaning that you'll never typically see them. Their purpose is to maintain the weight of furniture, appliances, people and walls associated with that room. Damage to the floor joists can occur for several reasons, yet it is vital that this is addressed as soon as possible. Floor joists have a vital role in maintaining the structure of your home. Therefore, any damage caused by an escape of water, fire or flood should be assessed and repaired by experienced professionals. 
When Can I Claim on my Home Insurance?
Home insurance exists to protect your home and investment from events that are out of your control. However, the conditions covered by most insurance policies are limited. There are even certain situations that you may be liable for that you wouldn't realise. This makes it pertinent to be aware of the events that insurance companies will provide cover for. This allows you to make the appropriate preparations and maintain your home, so you don't become liable under unfortunate circumstances.
The following factors and damages are typically covered by many standard home insurance policies: 
The most common insurance claims are associated with an escape of water. This can have detrimental effects on the strength of floor joists. Thankfully, this type of damage is typically included within most home insurance policies. Whether the damage occurred due to a burst pipe, leaking washing machine or leak from a boiler, your insurer should cover the reinstatement costs. So long as substantial evidence ties the two circumstances together, you could be entitled to claim for the cost of repairing damaged floor joists.
Unfortunately, fires within the home cause significant amounts of damage. Floor joists that are caught in the blaze are especially susceptible to creating structural weaknesses. Under most circumstances, your insurance policy should cover damage caused by a fire. 
However, your insurance could be invalidated by certain misconducts. Smoke alarms not kept in good working condition or a cigarette causing the fire could prevent insurance payouts. Covering the cost of replacing floor joists and fixing the rest of the damage would become your responsibility.
Flooding and storms are the most common occurrences of natural disasters that are likely to cause damage to your property in the UK. Whilst insurance companies will provide compensation for related damages to the floor joists, it is important to note that they won't cover damages that were actually caused by lack of maintenance or wear and tear. For instance, damage to a roof wouldn't be covered if there was an existing maintenance issue. Any damage that occurs to floor joists as a result of un-attended problems, such as a history of moisture, would face the same scrutiny.
Impact damage from cars or vehicles
In the event of a car impacting your property, several instances of structural damage could occur. If you find yourself in this situation, your insurance company will cover the cost of damages to the property. This would include the repair and replacement of walls, windows, floor joists and any other components involved in the impact damage. 
Damages to Floor Joists Not Covered by Insurance 
If you experience damage as a result of any other form of wear and tear or lack of maintenance, you should be prepared to pay for these damages yourself. For example, rotting floor joists are frequently not covered by standard home insurance policies. The issue is likely to have persisted prior to the obvious damage. It is the responsibility of the homeowner to be aware of and address these issues. 
It is always best to contact your insurance provider in order to check whether certain causes of damage are covered by your policy. This is especially significant before accepting quotes from insurance repair contractors. 
Working alongside an experienced property claims manager will assist you in making the appropriate claim for your property. They can make inferences from complicated policy wording that you may not understand. They can overturn claims that your insurance company initially tried to decline. This could potentially save you thousands of pounds for damages that weren't your responsibility.
The Floor Joist Repair Process
Damage to your floor joists can detrimentally affect the structure of your home. This makes it particularly important that the damage is professionally assessed and repaired in accordance with building regulations. For the most efficient repair process, teaming up with IC Assist, a highly recommended property claim management company, can make the experience hassle-free. They'll handle your claim, negotiate with your insurance provider and even instruct their professional contractors to complete the entire repair.
No matter whether your home has been affected by fire, water or structural damage, an assessor will attend the property and provide pictures of the damage and the exact scope of remedial work required. This information will be passed to your insurance provider, along with a detailed schedule of the works. This should be plenty of information for the claim to be successful.
Your insurer may send a Loss Adjustor to inspect the property. These individuals often don't provide a comprehensive assessment of the damage and required repairs. This is because they are usually tasked with saving the insurance company money. Therefore, they would likely only highlight the most essential repairs. Companies like IC Assist, however, ensure nothing is overlooked and that your home is restored in line with your policy entitlements.
Depending on the extent of the damage, your existing joists could be restored to a good condition. For instance, treating and drying minor water-stained joists can solve the problem. 
However, when the structural integrity of the joists are compromised, IC Assist will ensure that your home is restored to complete safety and structural soundness. If this requires a complete replacement of several floor joists, then their team of experienced contractors will ensure the work meets current Building Control Regulations. 
Save Yourself the Stress
Making a home insurance claim can be challenging and tedious. You require certain skills that you're probably not equipped to apply. The process requires you to understand complex policy terms, negotiate with insurance experts and persuade an insurer that is actively trying to pay as little as possible.
Property claims management is designed to make the entire process effortless for you. IC Assist applies their decade of experience and expertise to acquire a settlement that covers the cost to restore your home. Providing a complete solution, they offer a free claims service before conducting and overseeing the repairs required to fix your damaged floor joists. They will also assist with all other associated reinstatement work necessary to restore your property to its pre-loss condition.